I'm excited by the discussion that is swirling around the sex lives of two of my favourite Game of Thrones characters: Grey Worm and Missandei.  The Season 7 episode Stormborn ignited a conversation around a topic that I think is extremely important to consider: The way that we define "Sex".
I still haven't caught up on season 7 of GoT, but I just HAD to check out the love scene between these two characters so that I could join in the discussion. I saw so many posts online that were asking the question "Grey Worm and Missandei hooked up…..but did they have sex?  And if so, how?"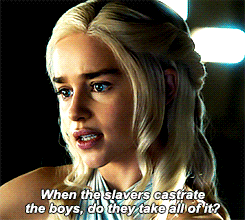 For those who aren't fans of Game of Thrones, let me shed a little light on this question.  Grey Worm, as a member of The Unsullied, a ruthless slave army, is a eunuch.  From what I can gather from the series and the books it is based on, in his case this means that he has been fully castrated, with the removal of both his penis and testicles.
So when the tender love scene between a castrated man and his female lover aired, a lot of people asked how, if he has no penis, could he possibly have sex with her? And this opened a can of worms around the idea of how we define sex.
For me, the discussion surrounding the love scene really highlighted how penis-centric our idea of sex is.  When most of us first learn about sex, we are taught that sex = penis in vagina.  But in reality the definition of sex is so much broader than that.  "Sex" can encompass a huge range of activities, including oral sex, anal sex, digital penetration and stimulation and mutual masturbation.  While there's no denying that these are all elements of sexual play, our culture still largely views them as foreplay, a lead up to the Main Event of penis-in-vagina sex.  I've even heard some people refer to penis-in-vagina sex as "real sex" or "full sex", which kind of gives the impression that those other sexual acts are less important or have a lower status than vaginal penetration with a penis.
And while some viewers were happy to concede that while Grey Worm could easily provide pleasure to his female partner, that without a penis he'd be bereft of any pleasure of his own.  If Grey Worm has no genitals, then surely any sexual play between him and Missandei will be ludicrously one-sided, cried they.
Although Game of Thrones has had some truly questionable sex scenes in the past, I loved the way this scene was shot. It was tender, it was erotic and the desire of both parties was palpable.  I thought it was a wonderful illustration of the ways in which sex can be much more broadly defined.  It showed that the important facet of a sexual encounter isn't the body parts that are involved, but rather the connection between the partners who are participating.
If we think of sex as only including penis-in-vagina penetration, we are selling ourselves short of a world of sexual pleasure.  We are excluding the sexual relationships of same-sex couples, intersex individuals and trans folk who do not participate in penetrative sex.  We discount the sexual connections had by heterosexual men who do not experience erections or sensation in the genitals.  And that cuts out a huge percentage of sexually active humans and relationships.  This narrow idea of what sex is does not serve us. It sets us up for a limited sexual experience and shame if our sex lives don't match that view.  And so I encourage everyone reading this to take a look at how you think about sex and try to widen that view a little if you currently think that "real" sex only looks like a penis in a vagina.
So how might Grey Worm and Missandei have had sex?  Well, we know for sure that there was plenty of kissing and touching, and we saw him go down on her.  Knowing what I know about their anatomies, here are a few other activities that they might have enjoyed together:
Grey Worm might have used his fingers or hands to stimulate Missandei's vulva and clitoris, and may even have penetrated her digitally.
Both parties have nipples, which might respond to touch and play.
Although Grey Worm doesn't have external genitals, he probably still has a prostate.  This nerve-packed pleasure spot can be accessed through the anus and can produce orgasm internally.
Frottage, or the rubbing of the clitoris against a thigh, hip or pubic mound, could be enjoyed by both parties while still maintaining full body contact and giving them the opportunity to kiss and look at one another.
Both Missandei and Grey Worm could have indulged in a sensual massage as a way to explore eachother's bodies and relax their partner.
Regardless of their genitals, everyone has a butt.  And the backside is full of nerve endings which are very responsive to touch with fingers, lips, tongues and toys.
This is just a few examples of the ways that these two characters could give and receive sexual pleasure together.  None of these activities involves a penis in a vagina and all of them count as sex in my book.
I am so chuffed that a program as huge as Game of Thrones has shown such a beautiful sex scene and given fans the opportunity to talk about how we define sex. It's a super important topic and one that I could chat about for ages.  But I wanted to keep this post relatively short to give you a chance to sit with these ideas and think about where you stand on the definition of "sex".
If you're up for it, I'd love for you to leave a comment telling me how you define sex.  What counts as "sex" in your book?