I've been sick with the flu this week.  It crept up on me last Tuesday night, appearing as a tightness in my chest and a tickly cough.  By Wednesday morning I was aching all over and my cough had become a hacking, wheezing monster.  Even so, I stood in the shower on Wednesday morning, determined to soap away the sickness and head into work.
I had this mental tug-of-war going on.  One half of my mind was telling me "You are actually, properly sick.  You need to rest and get better.  And nobody in the office is going to thank you for coming in and spreading your disgusting germs around".
But the other half was insistent that I should just toughen up and carry on.  I felt like even though I didn't feel well, that it wasn't right to take the day off when there was work to be done.  I felt selfish for even thinking about calling in sick and leaving my co-workers to pick up the slack.  This half of my mind was begging me to get dressed and soldier on with my responsibilities, regardless of how I was feeling.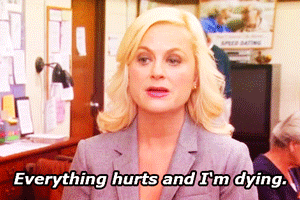 In the end, I listened to my body and phoned the office to let them know I wasn't coming in.  But for the remainder of the day I had this lingering feeling of guilt that popped up in between bouts of coughing, uncontrollable shivering and feverish naps.
Now that I'm feeling somewhat better, I have to ask my self why it is that I feel bad for taking time off when I'm genuinely sick.  After a fair bit of consideration I've come up with several reasons.
Firstly, I'm worried that my co-workers won't believe me or they'll think that I'm faking it if I call in sick.  This is largely a silly worry because I've never heard anyone in my office suggest that a person is pretending to be ill to get a bonus day off. However, I've worked in other places where there has been scepticism when someone has taken a sick day.  And so I'm always anxious that my boss won't believe me when I call to say that I'm not feeling well and I need a day to rest.
Secondly, I am concerned that taking a day off is selfish.  That by staying at home I'm shirking my responsibilities and being lazy.  This worry comes from a lifetime of living in a culture where self-care is seen as self-indulgence.  Where speaking up and saying "I need this" is seen as entitled behaviour and where admitting that you're not up to the challenges of your normal day is seen as weak.
Thirdly, I'm very aware that we live in a world where we are surrounded by messages that tell us that being sick is merely a blip on the radar, a mere inconvenience that needs to be suppressed so that we can "get over it and get on with it".  There are so many advertisements for medicines that don't claim help us recover faster or feel better. Rather, these advertisements are all about getting you back on your feet so that you can soldier on with your myriad of daily responsibilities.  Rather than encouraging us to get well, the bottom line is that we should carry on regardless of how we are feeling, because how productive we are is far more important than the way we treat ourselves.
This mire of guilt, frustration and fear that I experience around taking a sick day needs to stop.  I recognise that it's not good for me physically or mentally.  If you're going through similar feelings, then it's probably not good for you either.  Let's take a moment to review some facts and set ourselves on solid ground.
If you are ill, you are allowed to take a day off to recover.  Heck, if you need to, take two days. Or an entire week if that's what you truly need.   Sick leave exists for this very purpose.  If you work with other people, then going into work when you're ill puts everyone else at risk of catching whatever you have.  And if you work in the customer service industry then you're exposing your customers to your lurgy as well. Nobody wants their coffee served by someone who is snuffling all over the place.
Admittedly, this is a lot harder if you are self-employed.  When there is nobody to cover for you, and no sick pay to cushion the blow, taking a sick day can feel a lot more detrimental.  But honestly, if you aren't well, you aren't going to be doing your best work. It makes professional sense to take the time to get well and jump back in when you are well again.
Stepping away from work if you are ill isn't selfish.  Not only will you be preventing your co-workers and customers from getting ill, but you'll be ensuring that you aren't at the office doing sub-par work and making mistakes because you feel lousy.  It isn't self-indulgent to rest when you are unwell.  It is if you take a sick day when you aren't actually sick and you just don't want to tear yourself away from your Netflix binge.
Be kind to yourself and listen to what your body is telling you.  Often, we get sick because we haven't taken care of ourselves as well as we could.  Illness can be your body's way of telling you to slow down.
Finally, taking time off to recover isn't weak.  In light of the constant bombardment of messages about the importance of productivity and how we should solider on in the face of illness, it's actually takes some degree of inner strength to make the decision to step down and rest.  It can be easier to stay on the treadmill, to give in to the idea that your worth is based on how much you get done in a day, and completely ignore your personal needs.  I think that the more powerful decision is to stick up for what you need, to allow yourself the time to get well and to release yourself from the guilt and frustration that do not serve you and only make you feel worse.  If you're sick, stay home.  There's no need to soldier on.