It's been an awfully long time since I did a Things I Love Thursday post, and there are just so many things that are making me smile this week.  I'm ready to jump on in and share the happy!
I love:
Fangirl by Rainbow Rowell.  I just finished reading this book and it was excellent.  Sure, it's in the young adult category, but that doesn't lessen the awesomeness of this book.  In addition to being deliciously geeky, it deals with some really heavy issues like anxiety, bipolar disorder, dysfunctional families and navigating first relationships.  I truly enjoyed it.
This sweet potato gnocchi I made for dinner on Sunday night.  I have made ricotta gnocchi before, but potato gnocchi just seemed too fiddly and difficult. I was so wrong.  It was much simpler than I expected and the sweet potato was a fun twist.  The sauce was also out of this world. It was the yummiest, creamiest pasta sauce I've made since I went vegan.  If you want to give it a try, this is the recipe I used.
Sharing my yoga mat with Mr Ringo, who thinks that yoga time is the perfect opportunity to steal kisses and smoosh his whiskers against my toes.
Celebrating my Dad's 60th birthday with a low-key family dinner.
Warm socks and nightshirts.
Wes Anderson movie marathons
Watching American Pie with my long-distance love over Netflix and chatting on Skype about the horrendous plot holes and questionable fashion choices.
Good Mythical Morning.  This show has been one of my favourites for about a year now.  This week I watched this episode, featuring Mayim Bialik and nearly peed myself with laughter.
Nude lipstick.  I was always heartily bored by nude shades, but lately I've been drawn to them.  I found a gorgeous matte pinky nude by Lipstick Queen that I'm smitten with and I've been wearing it non-stop.
Rearranging my kitchen. I've switched around all my cupboards, moving the stuff I use most often into the spaces closest to the sink and countertop and lesser-used items into the far side of the room. It is so much more convenient and putting the dishes away takes a lot less time now.
Master of None.  This show is massively underrated.  It is funny, thought-provoking and full of heart.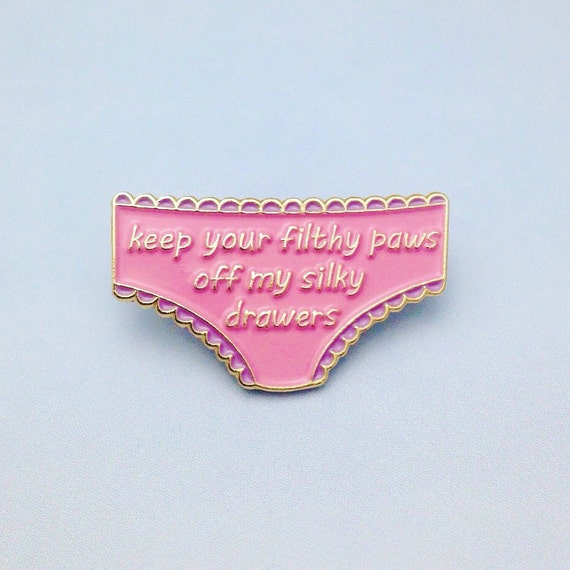 This rad enamel pin.  I bought one for myself a few weeks ago and it finally arrived!  It has all the elements I love: it's pink, it's adorable, it's sassy and it references Grease!
Chimichangas.  I had my first one last week and it was a revelation.  I can understand what Deadpool is so worked up about.
Getting my hair cut.  I had about eight inches cut off my hair last week and it feels so much better now. I hadn't really noticed how long my hair was getting, but I did see that it was due for a trim.  Once I was in the salon chair, I just wanted the hairdresser to keep cutting and cutting.  I love my swingy new 'do.
Finally, this magnificent post called You Should Have Asked by Emma.  It so perfectly describes a phenomenon that I've been trying to put into words for years. It's about the idea that in so many heterosexual households, the woman is the person who manages the house. Like, not just doing the housework, but undertaking the role of Project Manager for the entire home. And that this has a detrimental impact on mental health, self worth, relationships and family structure.  I've been in this situation, and it was this mental load and my partner's refusal to take some of it off my shoulders that began to erode my longest relationship.  It's hugely damaging and difficult to talk about, so I was exceptionally excited to find this cartoon that so wonderfully expresses these ideas.
What do you love this week?