So, this week's FFF prompt was must-see Christmas movies.  But I remembered that I already did this prompt two  Christmases ago.  But as I'm a massive Christmas nerd with  huge collection of holiday movies, I didn't think I'd have any difficulty thinking up a list of 5 more films to get you in the holiday spirit. So, just in case you've seen all the ones on my original list, here's a few more geeky films to sink your teeth into this Christmas.
It's a Very Merry Muppet Christmas Movie
Fun fact: I don't particularly like It's a Wonderful Life. This Christmas Classic has never managed to warm my heart.  But the Muppet version has been a part of my Christmas festivities for about twelve years now.  After a series of devastating personal failures, Kermit the Frog starts contemplating his place in the universe, and begins to wonder if the world would be a better place if he weren't a part of it.  Luckily, his guardian angel (played by David Arquette) swoops down from Heaven to show Kermit what the world would be like if he'd never  been born.
2. Elf
Nothing has ever made me laugh quite as hard as watching Will Ferrell catapult himself off a couch and into a giant Christmas tree in this film.  Although it's kinda corny, Elf is full of giggles and joy.
3. White Christmas
I'm a sucker for Danny Kaye, and when you pair him with Bing Crosby you just know that you're in for an all-singing-all-dancing good time.  This film has an array of gorgeous costumes, a sweet story and features the classic song White Christmas.
4. Home Alone
Nothing says Christmas quite like parental abandonment and home invasion.  Even with the unsavory subject matter, the moment I hear the opening strains of the Home Alone theme, it feels like Christmas to me.  If you haven't seen it, do yourself a favour and grab a copy, then hunker down with pizza and pepsi and check it out.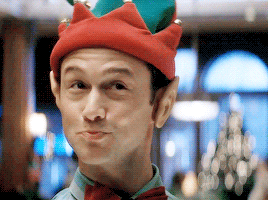 5. The Night Before
Ok, so this one isn't fun for the whole family.  You definitely want to clear the kids out of the room before you pop this movie in the DVD player.  But even though it's choc-full of profanity, violence and drug abuse, The Night Before manages to be a really sweet story about friendship and holiday tradition.
What movies do you like to watch to get you in the holiday spirit?  Have I left any off my list that you feel should be here?