I'm playing catch-up on some of the 5 Fandom Friday posts that I missed.  This one in particular struck me because I adore tattoo art.  Although I don't have any tattoos, and have no plans to get one, I enjoy coming up with clever tattoo designs and flipping through pictures of other peoples tatts.  So while I don't intend to ever get one of these images inked onto my skin, they are all designs that I think are gorgeous.
"Andy" tattoo on my foot.
I am a big Pixar fan, and I'm especially fond of the Toy Story films.  I've often thought that it would be cute to get the name "Andy" inked on the sole of my foot, in homage to that awesome collection of films.
2. The Addams Family credo
The Addams Family has been one of my longest-lasting fandoms, as I've been into it since I was about six years old.  I think that years of tireless devotion to the family Addams should qualify me as an honorary member, and worthy to bear the family motto on my skin.  Mortica states that the family motto is "Sic gorgiamus allos subjectatos nunc" or, "We gladly feast on those who would subdue us".  Not just pretty words, mind you, and I think an important message about individuality and not being beaten down by the crowd.
3. The Great A'Tuin
Terry Pratchett is my all-time favourite author, and since his passing last year I've thought several times about a way to honour the man whose work changed my life.  I think a small tattoo of The Great A'Tuin, the tortoise who is the vehicle for The Disworld, which rides atop four elephants perched on her back, would be just the thing.
4. A pair of ruby slippers
To me, Dorothy's ruby slippers from The Wizard of Oz are a very powerful symbol of self reliance.  As such, a constant reminder that I always have the power within me to get to where I'm going would be lovely.
5. Elvira pinup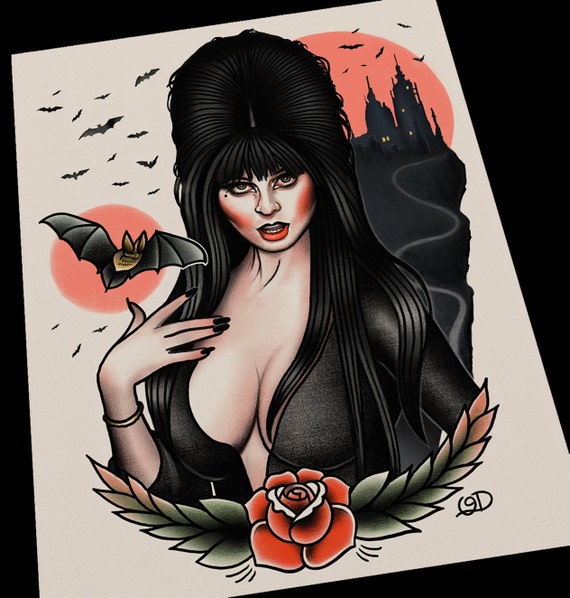 I adore vintage-style pinup tattoos. But in order to put a geeky twist on an old classic, I'd like Elvira to be the subject of such a tattoo were I ever to get one.  She's hilarious, ballsy and so darn sexy.
Do you have any geeky tattoos?  Are you planning any?