Happy Thursday lads and lasses!  It's been a truly awesome week this week, and I've got a lot to smile about.
This week I love:
– Miss Fairchild's girls.  The whole Fairchild clan came to stay with me for new years.  Now, I've never been a person who gets excited about spending a lot of time with kids, but let me tell you that these girls are amazing.  They are (mostly) well-behaved, super funny and really considerate.  I had such a great time getting to know them and hanging out with them.
– Celebrating New Years.  I don't usually do anything special for New Year's eve, but this year I wanted to do something.  2013 was such a shitty year, and I wanted to send it off with a bang!  Ms Fairchild and family celebrated with me.  We had a movie marathon (Shrek, Kung Fu Panda and Wreck it Ralph), danced with sparklers and whipped out the telescope to look at the stars.  It was a low-key and perfect way to ring in 2014.
-Turning Jelly-cat into a meme.
– Planning so many fantastic craft projects to do over the next few months.
– The anticipation of getting time off work in a couple of weeks.
– Catching my cats holding hands while taking a nap.
-The Office.  Yes, I know it's been on my list for a few weeks now, but it deserves to be.  Because it's awesome.  One of my favourite parts of the show is all of the pranks that Jim plays on Dwight.  They remind me of the kind of thing my brother might do.
-This gorgeous hand-painted silk scarf which was a gift from my friend Violet.  I can't believe that she made this herself.
– Looking back over some of my old outfit photos.
– Finally going to the physio to see about fixing my sore shoulder.  I had one session this morning and it's already feeling better.  Hopefully I'll only need one follow-up session.
– Learning about the Victorian language of flowers.
– Getting a new book about Henry VIII to add to my collection.
– Continuing my massive clean-out.  I've gotten rid of so much stuff that I've nearly emptied one of my closets entirely.  I'm feeling so much happier to have all that clutter out of my house.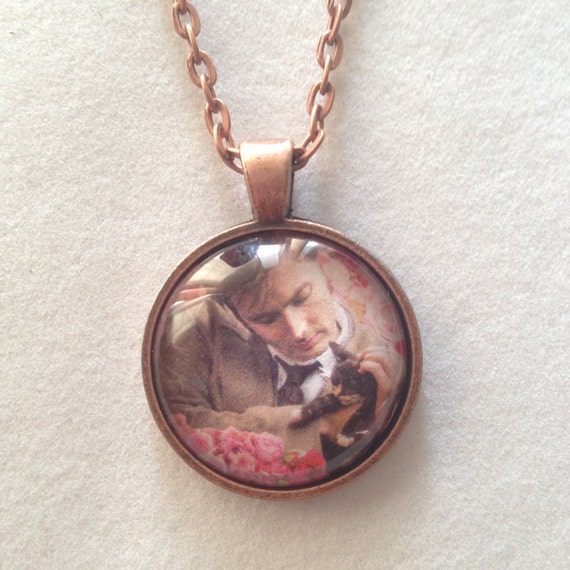 -This necklace from Le Fancy Geek Boutique with of a picture of the 10th Doctor with a kitten.  Seriously, SHUT UP AND TAKE MY MONEY!
– Having awesome dreams where David Tennant and Kit Harrington fight over which one gets to make me breakfast.
What do you love this week?